Why is it that bedrooms get cluttered with random stuff so quickly? I'm specifically talking about the master bedroom. There's always random kid stuff in my room by the end of the week as well as my own mess.
As a tired mom, I'm not excited about the thought of cleaning my bedroom but I know that it feels so good to retreat to a clean space at the end of the day.
Something that I find truly helpful when tackling tasks that seem a bit daunting, is having a practical checklist to give me achievable steps.
I've created my own bedroom cleaning checklist that can be used to either deep clean your bedroom or modified to use on more of a weekly basis.
There's also a free printable checklist that you can download for yourself by signing up at the end of this post.
The Best Bedroom Cleaning Checklist + Free Printable
This list may look a little intimidating but there's some smart thinking in it. You see, when we break down tasks into small bite-sized chunks, we create motivation where there once was little to none.
As we complete each task, we're motivated to continue on to the next. If however, we just kept it to one big task that seems huge, it can be easy to feel defeated.
Also, while this is a great checklist for deep cleaning your bedroom, I'll also say that if you do these tasks more often, you firstly won't have to deep clean, and secondly, the tasks will take much less time.
With all that said, let's get started!
#1 Get Your Cleaning Supplies Ready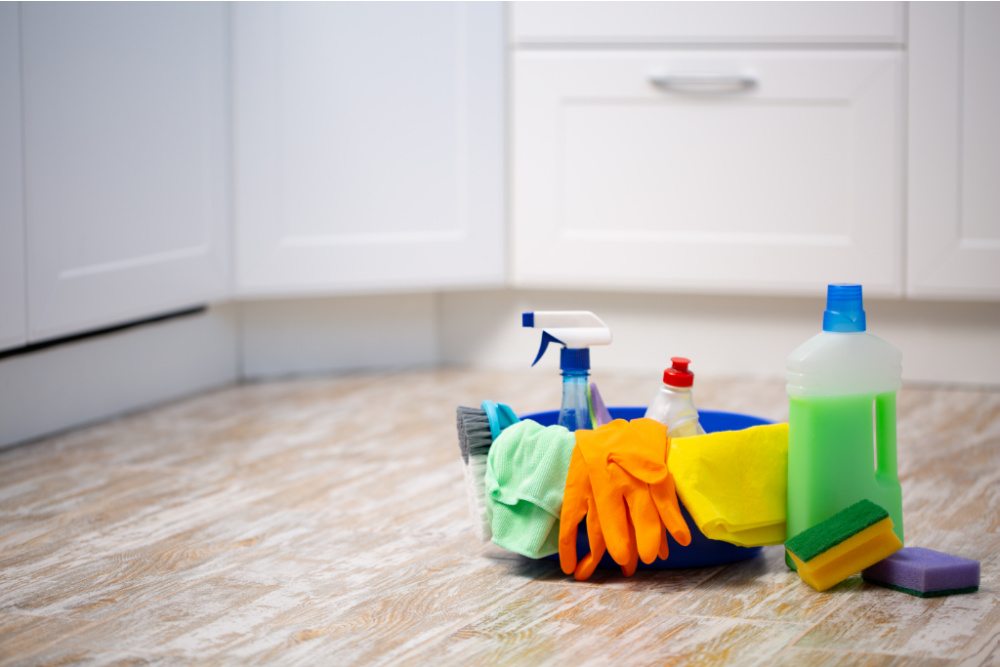 The first thing you'll want to do is to get everything you'll need to get your bedroom sparkling clean all ready to go. It's easy to get distracted when you're not exactly enthused about the job you're doing.
Set yourself up for success by making sure you have all the cleaning tools you need on hand.
I like to have:
#2 Take off the Sheets and Put them On to Wash
Before you jump straight into cleaning, there are some things to get started on that can be busy getting sorted while you're cleaning the rest of the room.
One of those things is washing the bed linens. I typically wash our sheets weekly and the comforter or duvet cover less often.
Depending on if you're doing this as a weekly clean or deep clean will determine what you might like to do. If you have throw pillows or blankets on your bed you may want to clean them as well.
#3 Rotate or Flip the Mattress
This is something you're probably only going to do every few months, but now is a good opportunity to rotate or flip your mattress.
If your mattress is quite heavy, be sure you enlist help for this step so you don't inadvertently injure yourself.
#4 Sprinkle the Mattress with Baking Soda
We use our beds a lot and as gross as it is to think about, we leave behind smells as oils, etc, build-up.
Using a mattress cover can help, but baking soda is also a great solution. Sprinkle it generously all over your mattress and leave it there to absorb any odors while you clean the rest of the room.
#5 Put Clothes Away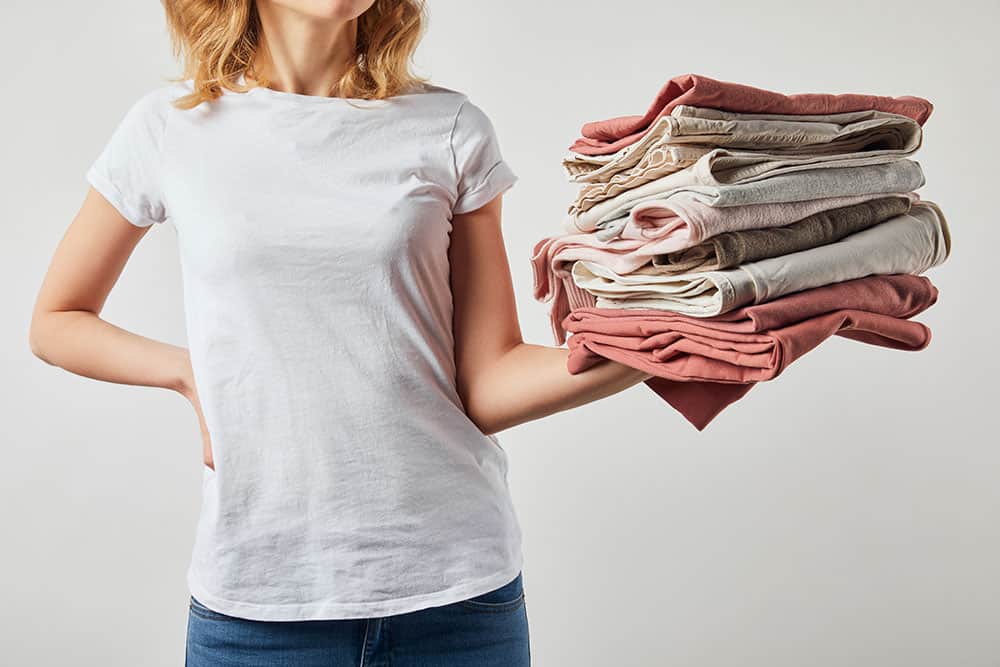 If you're someone who doesn't have a spot where you dump clothes that are too dirty for the closet but too clean to be washed, I'd really like to meet you and ask for your tips.
If you're like me and a large population of adults, you're going to need to make a decision about said clothes.
Hang up the clean clothes and put the dirty clothes in the hamper or washing machine.
#6 Put Things That Don't Belong In the Bedroom Into a Box or Basket
Something that tends to overwhelm me is finding homes for all the little things that seem to get left in my bedroom.
It is time-consuming to keep going in and out to put things away.
A much faster way to achieve the same result is to grab something like a laundry basket and just go around your room dumping everything in it that doesn't belong there. You could also use trash bags, but I find a basket easier.
You can deal with putting all that stuff in its proper place a bit later, but for now, you've cleared your space of everything that doesn't belong, and you've done it without going in and out of the room 50+ times.
#7 Take Out the Trash
If you keep a trash bin in your bedroom, make sure to empty that out. If not, be sure to pick up any trash that doesn't belong in there and discard it.
#8 Dust the Corners Ceiling Fans, and Light Fixtures
Something smart to remember when it comes to cleaning your house is to always start high and work your way down.
That way you're not having to double clean surfaces which is always a good idea.
Once you've cleared your bedroom of all the clutter and things that don't belong, you can start dusting things like the corners and light fittings.
A good way to clean your ceiling fan without getting dust everywhere is to use an old pillowcase and drag it along the blade.
The pillowcase will catch most of the dust.
Also, remember to dust the top of the door frames.
#9 Dust and Wipe Down Window Sills
Next up are the windowsills. If you're doing a deep clean, you'll want to make sure you've cleaned up any mold or mildew that may have accumulated around the windows.
#10 Clean the Windows and Mirrors
I used to despise having to wash windows before I discovered the Karcher Window Vacuum. I've had mine for 8 years now and I love it.
It makes cleaning windows and mirrors and quick and painless process with minimal drips and basically zero scrubbing.
Having clean windows and a clean mirror really does take the room to another level.
#11 Dust Blinds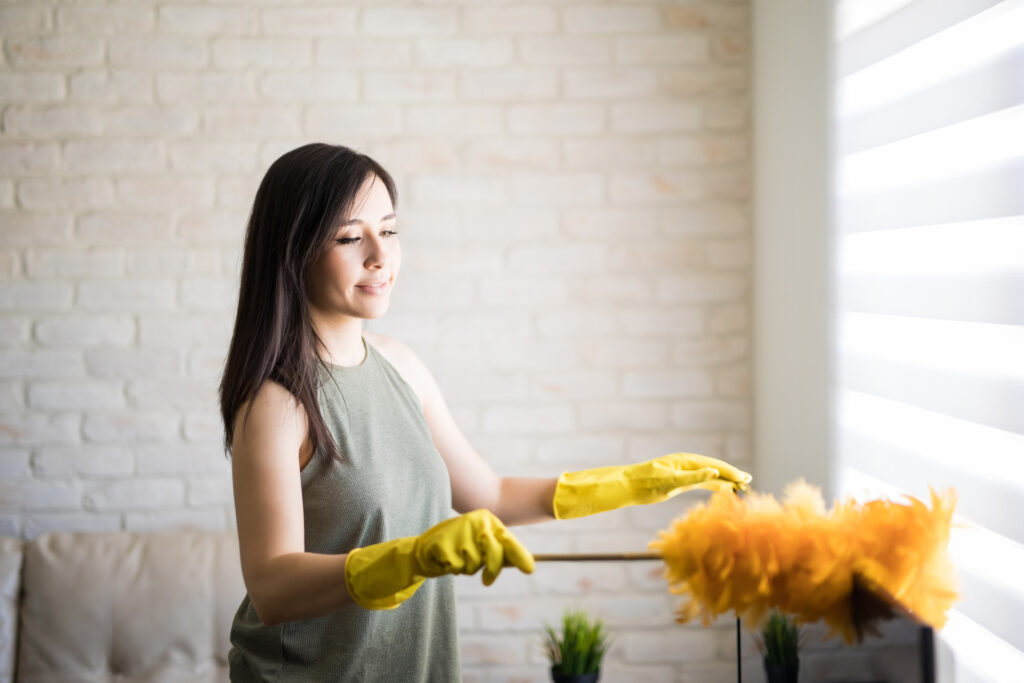 If you have blinds in your bedroom you'll want to do a quick dust of them. It's not fun, but it has to be done. Doing it regularly will be of benefit in the long run.
Depending on the material of your blinds, you could use a dry microfiber cloth for dusting, or a proper blind duster.
After dusting them, use a damp microfiber cloth to wipe them down.
If you're doing more of a deep clean, you may want to take down any drapes you have and wash them.
#12 Dust and Wipe Down All other Surfaces
Take your time to go around your bedroom and dust then wipe down all other surfaces. This can include bedside tables, dressers, lamp shades, and picture frames.
You'll want to clear away any clutter during this process as well.
#13 Wipe Down the Light Switch and Door Handle
I never used to do this until about two years ago and now I can't unsee the bugs that surely hang out on these kinds of high-use touchpoints in my home.
Use a damp cloth and your choice of cleaner for this step.
I clean door handles and light switches on a weekly basis.
#14 Vacuum Up the Baking Soda on the Mattress
Since the baking soda has been sitting doing its job for a while now, you can go ahead and vacuum it up. If you have an upholstery attachment for your vacuum, I would use that.
Another tip to avoid odors building up is to not make your bed once a week. Instead, pull back the covers and just let it breathe.
To be honest, this is not a natural thing for me to do. I love a made bed, but I can get on board when it's for a practical reason and not just a lazy one.
#15 Vacuum the Baseboards
You don't have to use a vacuum for this step but I find it quick and easy to use my vacuum attachment for this. It saves my back and does just as good a job as if I were down there with a rag.
#16 Vacuum the Floor
Cleaning the bedroom floors is almost the last thing to do.
What is it about clean floors that just really make a space feel really clean? It's always one of the very final steps that I complete in any room I'm cleaning.
Do a good, thorough vacuum, making sure to get right into the corners with the crevice tool and under furniture where you can.
#17 Make Up the Bed With Fresh Sheets
Finally, make up the bed with fresh, clean linens. The nurse in me will forever make sure that there are crisp hospital corners, but you do what makes you happy.
Clean floors and a freshly made bed are inexplicably satisfying.
I never feel as though I truly have a clean room until the bed is made.
Your Free Printable Bedroom Cleaning Checklist
Now that you've finished cleaning your bedroom you can enjoy it! If you want to do it again so that you can maintain a clean bedroom on a regular basis, why not download this free printable bedroom cleaning checklist?
There are detailed instructions in this post but the printable checklist is all you really need to keep you on track.
It's all yours when you sign up via the form below.
Hey there! I'm Christine and I've been blogging since February 2017. My parenting blog, Christine Keys is where it all started, but over time I've expanded (as my life has) to writing about home management as well as homeschooling over at This Homeschool House
I'm a qualified nurse and I believe that has ingrained in me certain habits when it comes to keeping my home clean and well-maintained.
I love to create beautiful things and to constantly be learning. When I'm not blogging or wrangling my three crazy kiddos, you'll find me binging out on Netflix.