This post may contain affiliate links. Please refer to my disclosure.
Are you wishing you could still have a nice house with small kids? Well, you can!
You just need to know what is the most family friendly decor and how to hide toys in the living room.
These tips for decorating when you have kids will help you get the look that you want while also making it a nice place for your kids.
Let me share with you the best kid friendly living room furniture as well as a few other helpful ways to have nice decor while keeping your kids happy and safe.
I know that having children in a home does make it tricky when it comes to home decor.
It isn't that you can't teach children not to touch, but the reality is that this is their home too.
They should be able to have fun and play without having to worry about whether they're going to break special items.
And you should be able to not worry about it either.
So how do you decorate your home when you have children running wild inside?
I have 3 all under the age of five, so I should know.
What's more is that we live in a fairly small home so it isn't all that easy to avoid bumping into things if you're running around.
But, you can still have a home that looks nice and welcoming. You don't have to be overwhelmed with toys and kid stuff. There is a balance to be achieved.
The Best Tips for Decorating when you Have Kids:
#1 Use Neutral Colors
I know neutral colors aren't for everyone, but when it comes to wall colors I am a big fan.
The stage of life with little ones can be chaotic. There are toys, so many toys.
I'm a big advocate of regularly purging, but even then there are still going to be a lot of toys around your home.
Neutral walls can help to counteract the bombardment of color that comes from everything else.
It provides a sense of calm amidst the choas and will give you a fresh pallet to design the rest of your spaces.
What is even better is that you can choose to go with either warm toned or cool toned neutrals to suit your taste.
Almost our entire home is painted white.
We have a few feature walls and our bathroom is painted a warm grey.
Most of the color and warmth comes from the soft furnishings.
Having a house that is painted in a neutral light color helps to make the rooms feel bigger than they actually are.
This is a great mental boost for me on the days when we're all stuck inside together.
#2 Keep Extra Paint
If you've painted your home then I would strongly urge you to keep a little extra paint in storage.
If you haven't painted your home, then I would suggest getting a small test pot color-matched.
Why?
Because kids mess up the walls. They just do.
Little, muddy hands come straight from the back yard and the first thing they tend to touch is the door frame or the wall.
Does your kid love to color in?
I don't think that there are many parents that can honestly say that their child hasn't decorated the wall artistically before.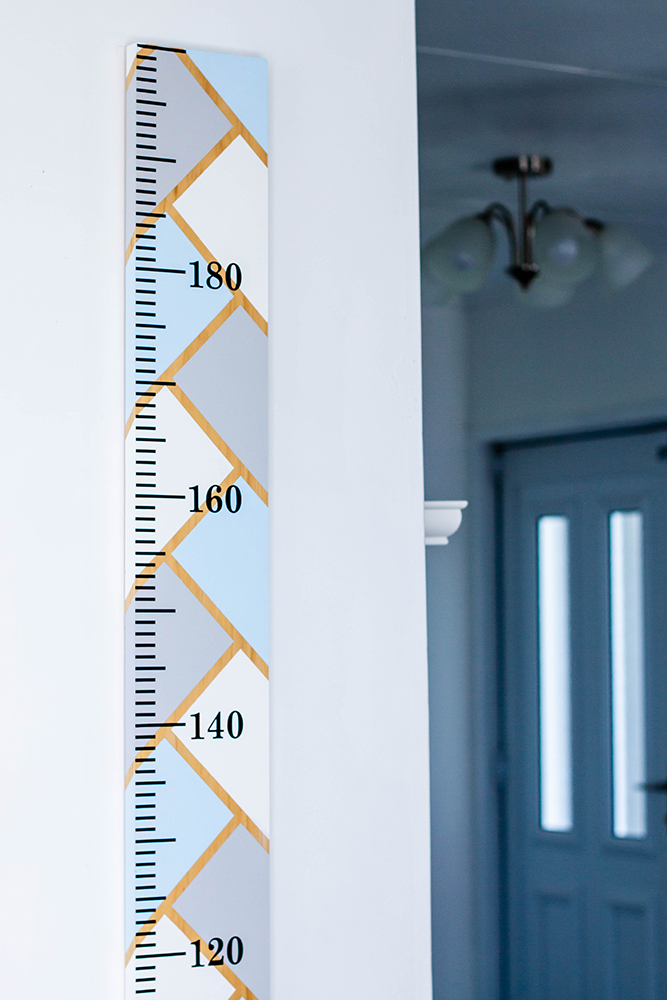 It is almost like a right of passage.
Having a tin of spare paint has come in handy for us on a number of occasions.
It can also be helpful if you're selling your place one day and just need to touch up a few spots.
#3 Choose Easy-to-Clean Furnishings
You don't have to choose ugly pieces of furniture just because they may seem more kid-friendly.
The biggest thing to keep in mind is whether or not your furnishings can be washed fairly easily.
We've had our sofa for just over a year and it is definitely beginning to look a little grubby.
It is no wonder with the food, mud, dirt, baby puke, and other gross substances that have been spilt on it.
We could have gone for a leather sofa because it won't get stained, but it is also super easy to just hire an upholstery cleaner for a few hours once a year and clean it up.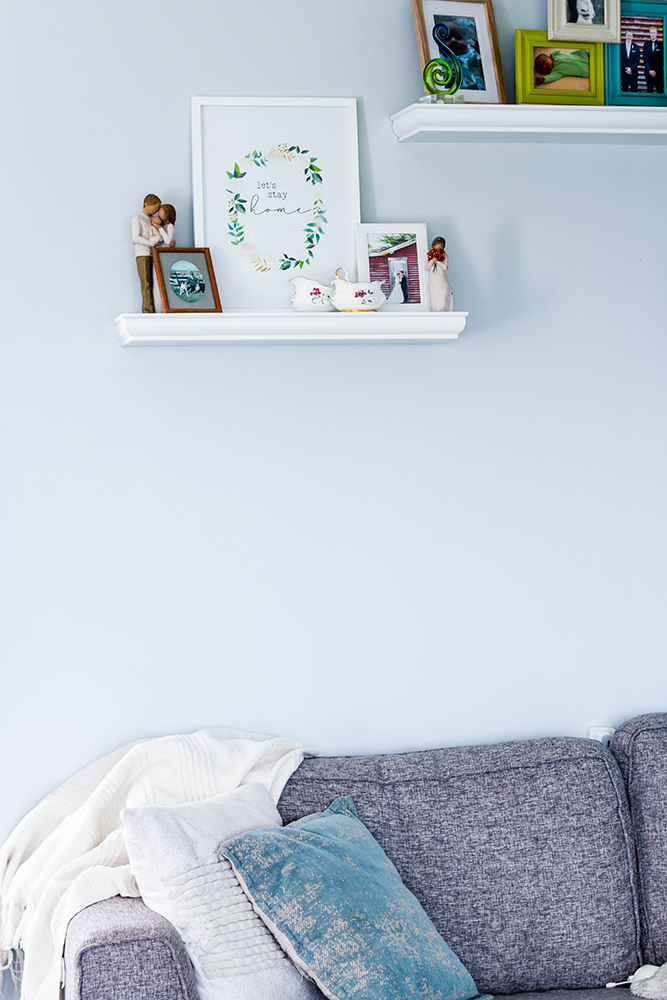 We also have a bunch of cushions on our sofa. I love how the give a sense of cosiness to the room
However, I always make sure to choose ones that have removeable covers. That way if they get soiled in any way I can just toss the cover in the wash.
#4 Choose Clever Storage Pieces
Storage is kind of my thing.
I am made so content when there is a room full of useful and aesthetically pleasing storage solutions.
Our children have a fair amount of toys, but because we have a ton of storage you don't have to see them all the time.
Plus, our rule is that if the toys aren't fitting then it is time to purge.
Be creative when it comes to storage. Our TV console is a second-hand dresser that I painted and changed the handles on.
Not only does it serve to store cables and such, but we use it for diaper storage and even shoe storage!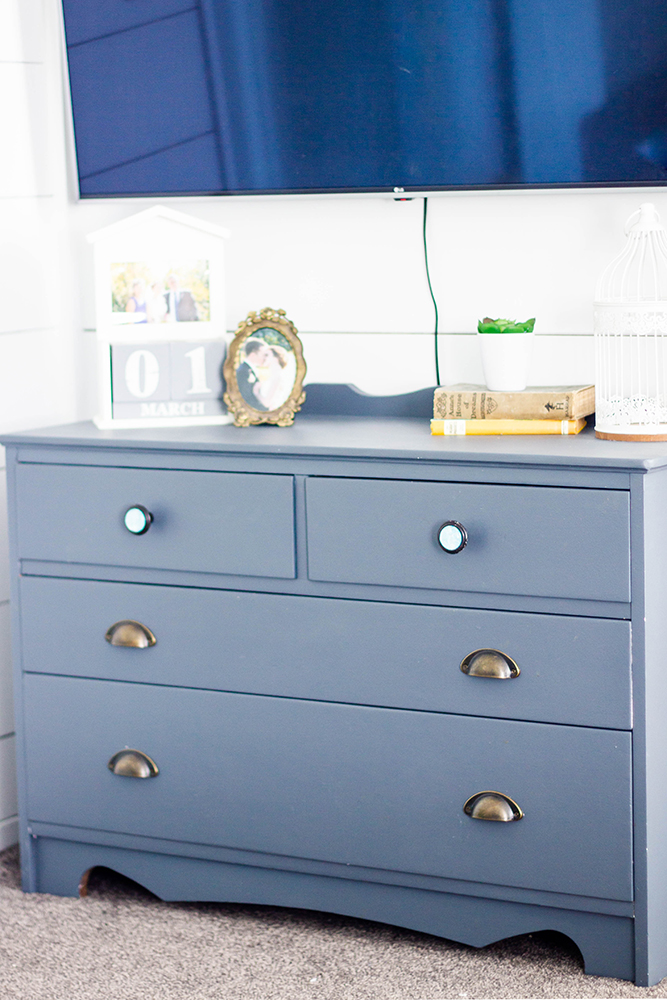 Just because an item isn't labled for the way in which you want to use it doesn't mean that you can't.
#5 Be Smart
You can have pretty decor items out, but if you don't want them to be broken then don't leave them within reach.
Secure pictures to the wall in a safe manner so that fidgeting hands can't knock them down.
Another thing to consider as far as safety is to bolt heavy pieces of furniture to the wall.
Most children have a tendency to try and climb and there have been far too many cases of children being hurt as a result of furniture falling on top of them.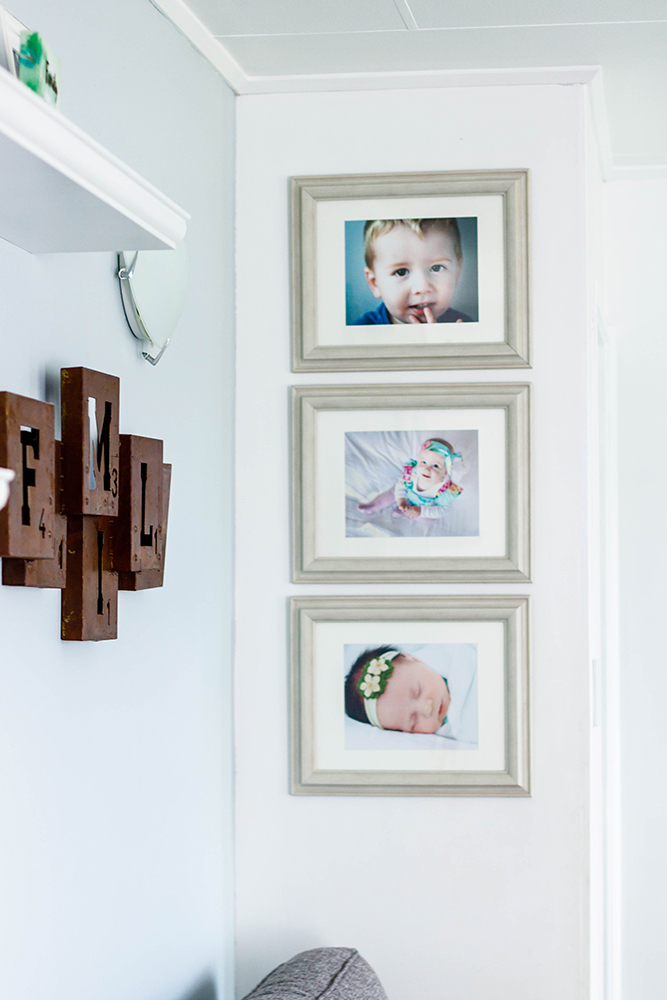 #6 Have Designated Areas for Toys
I love that my children want to play all day. It is one aspect of parenting that makes me very happy. To see them lost in play is wonderful.
However, we still keep things balanced and in check by having designated areas for toys.
They do not belong all over our home.
Our children have a corner off of our living room that we call their playroom.
Most of their toys reside there and the few others that they have can be found in their bedroom.
#7 Use a Pinboard & Printables
One of my favourite ways to decorate our home is by using printables. I have an Etsy shop where I sell my designs.
We have a "home station" that consists of a pin board and shelf. That is where I have my checklists, calendars, printables, etc.
It looks pretty but is also very functional.
I usually change things out about once a month and it helps to keep our decor looking fresh.
Conclusion:
You can still have a nicely decorated home when you have kids. Not everything has to be boring and practical.
Make smart choices when it comes to furnishings and be clever with the storage solutions that you invest in.
Ultimately, remember that you can live in the most beautifully decorated home, but if it does not contain joy, it won't seem beautiful at all.
A beautiful home is made from love.